5 Great
Argan Oil

Benefits for Hair Care


In the last few years there has been a lot of publicity concerning the use of argan oil for hair care treatments. Most of the information has been with regard to how wonderful this rare and natural oil is. Professional companies, such as Visible Science, have dedicated themselves to sourcing the best argan oil available. However, very few people know where argan oil comes from or the many argan oil benefits for hair.
Where Does Argan Oil for Hair Come From?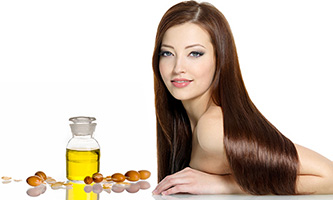 Pure argan oil is produced in only one part of the world - the southwestern region of Morocco, and the reason many call this amazing product "Moroccan Oil." When the fruit of the argan tree is ripe, it is harvested by hand and the seeds are removed. In this region of the world, the entire process is completed by local Berber women.
The seeds or kernels are then crushed to produce the nutrient rich oil, which is now in very high demand for use in both health and beauty products. Each season one tree may only produce a single liter of this precious oil.
Argan oil benefits for hair:
Rehydration: Lack of moisture is one of the most common hair problems encountered today. Because argan oil is able to penetrate deep into the core of each hair follicle, it is able to nourish, moisturize, and revitalize it. This can eliminate dry, flyaway hair, and reduce the dry, rough texture many people live with.
Elasticity: Many people live with brittle hair that tends to break easily and can look "dead". Moroccan oil penetrates deep into the cuticles and to the center of each strand. In nourishing the hair like this, the oil helps to restore elasticity and give the hair more bounce and "life".
Anti-aging: Aging tends to yield negative side effects such as dryness, hair loss, and overall weakness. The high level of antioxidants found in argan oil can reverse hair loss and help to significantly reduce the effects of aging.
Healing: Argan oil benefits for hair care treatments include high levels of both Omega 3 and 6 fatty acids. These amino acids have been found to help heal hair problems such as split ends and brittleness, giving hair a much healthier feel and look.
Damage Repair: Moroccan oil is loaded with vitamin E, a nutrient so vital to overall health it is added to many hair care products. This vital nutrient can help to stimulate new hair growth and repair much of the damage caused by the sun's UVA and UVB rays. It can also help protect your hair from pollution.
These are only a few of the argan oil benefits for hair that you can enjoy when using products such as those available from Visible Science. There are many reasons why this incredible oil is often referred to as liquid gold, including the fact that it can give hair a completely new and healthy look - no matter how damaged it might be. Learn more.